Sustainability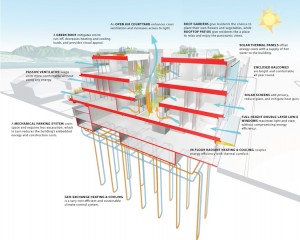 We believe that any future project will have to be as sustainable as possible. At LWPAC we have pioneered a more holistic design approach to meet that goal. Our designs are resource conscious, culturally aware and technically both simple and sophisticated. They are carefully situated in the context and designed to take maximum advantage of passive strategies such as natural light, solar gain and ventilation. We use materials that have a long lifespan and come from renewable resources whenever possible.
We design platforms for life that enable and catalyze. All of our designs have received significant acclaim for their adaptability and flexibility to engage with both the certainties and the uncertainties of the future. Multiprogramming and culturally sustainable usages add to the longevity and adaptability of a new building.
Low energy and minimal impact design is an essential part to our approach. Our ROAR_one project is an EcoDensity and Passive Design reference project for the City of Vancouver. The building is highly acclaimed for its sustainable urban densification strategies. We have developed a prototype for a net zero school project and we have successfully delivered an educational building that pioneered the use of passive design strategies. We are currently in the process to deliver a project that aims for 'Passive Haus' and 'Living Building Challenge' standards, one of the first housing projects in BC and in Canada. This project has just been sponsored by BC Hydro's Power Smart Conservation Innovation program under the auspices of Investigations into Net Zero Energy Capable Housing.
We use environmentally desirable and sustainable materials whenever possible. We have spent more than 15 years working in methods of digitally assisted prefabrication and controlled systems assembly, in order to minimize waist and to produce significantly accelerated construction schedules. Currently, we are in the process to deliver a fully pre-assembled multifamily development that is scheduled to be built in 8 month instead of 16-20 month. The project will use local timber where possible.
Sustainability is part of all aspects of our practice. One of our projects won the 2006 Lieutenant Governour's Innovation award for its sustainability and densification strategies. We measure current projects by the Living Building Challenge standard and we work with our associates firms through technical aspects of LEED certification processes and environmental government grants.